| | |
| --- | --- |
| | Marking technology |
Marking stamp of BON MARK will give your products a higher value by its sophisticated expression of characters, which cannot be replaced by laser-marking method.
Through 3-D process, curved surfaced stamp also can be made and this has contributed to widen marking markets, being used as stamps for "Nationality" "company name" "logo mark" "product name" "product date" etc. Short time delivery can be done as receiving the data by E-mail and engraved by NC-machine after converting
| | |
| --- | --- |
| | Rubber Stamps |
【features】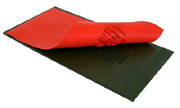 For its softness, applicable to the product on which surface are subtle uneven.
Letter height minimum = 0.5mm
available for both Direct-Print and Off-set Print
Manual print use or Machine print use is available. And also used for cylinder shape product
BON MARK INK is recommendable for our rubber stamps
The special material is used for rubber of which character is both durability and solvent -resistance

| | |
| --- | --- |
| | Metal Stamp |
【Features】

Available material are Brass (BS), SK, Al
Minimum letter height 0.5mm ( for number & English letters) 1.0mm ( for Chinese characters)
Characters are engraved on any place of cylindrical main body, and also some part( for such as Lot No. ) can be removal.
Orthodox printing method for this is "Off-set printing" ,but "Direct printing" also is done as "Hot Stamp", "Punching Stamp"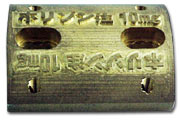 letter types made by combination of concave & convex. Also capable for letter types for intaglio and big characters such as its height =25mm to 30mm.
| | |
| --- | --- |
| | Resin stamp |
【Features】

As this material is hard to shrink, so suitable for offset printing for multi-continuous pattern.

And also suitable for printing on rather large area . available for letterpress or intaglio.





| | |
| --- | --- |
| | Other rubber-related products |
【Features】


In using rubber stamp, metal stamp, resin stamp by auto printing machine, rubber rollers are must items for transferring ink to the product after ink well -kneaded
Roller for kneading, applying, transferring are available.
Rubber materials available are NBR, IIR, Polyurethane,